ANDREW SALGADO (b. 1982, Canada) graduated with an MA in Fine Art from Chelsea College of Art in 2009, and is regarded as one of the United Kingdom's leading figurative painters. Since 2010, he has had over 16 sold-out international solo exhibitions in London, New York, Tokyo, Miami, Toronto, Cape Town (South Africa), Basel (Switzerland), and Zagreb (Croatia). His forthcoming solo exhibition, entitled, Good Things is due to open on 28 April 2023 at PIERMARQ* Gallery in Sydney, Australia.
In 2017, Salgado was the youngest artist to receive a survey exhibition at The Canadian High Commission in London. He has received press both online and in print, including GQ, The Evening Standard, The Independent, Artsy, METRO, Attitude Magazine, Globe and Mail (CAN), and Macleans (CAN). He frequently donates to charities, most notably to the Terrence Higgins Trust, having raised over £135,000 since 2014. In March 2019, he entered the secondary market with a piece in a Strauss & Co auction in South Africa that doubled its estimate; and went to auction at Phillips (NY) in June 2021 with a piece selling for five times its estimate.
His works have been collected extensively in private and public collections worldwide, including The Oketa Collection, The Royal Bank of Canada Collection, The Masahiro Collection, Government of Canada, The Jordanian Royal Family, Simmons & Simmons, the Esquinazi Collection, Edwin Oostmeier Collection, and more.
He lives and works in London, England.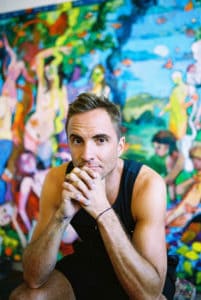 SALES INQUIRIES

BEERS London (London, UK)
UK, Europe & North America
Tel: +44(0)2075029078
E: info@beerslondon.com
MAKI GALLERY (Tokyo, Japan)
Japan & Asia
Tel: +81-3-6434-7705
E: info@makigallery.com
PIERMARQ* (Sydney, Australia)
Australia & New Zealand
Tel: +61 2 9660 7799
E: info@piermarq.com.au